College Staff
Academic Staff College
Academic Staff College, Amb College established in October 1987, is one of the fifty such colleges set up by the University Grants Commission as to provide in-service training to college lecturers. According to the UGC proposal, this College offers two types of in-service training programmes: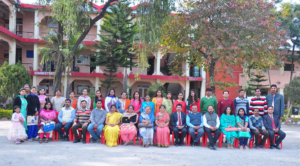 General Orientation Course
For newly appointed teachers having less than 6 years of teaching experience.
Refresher Course
For teachers having more than 2 years of teaching experience. Refresher Courses are organized in specific disciplines assigned by the UGC in a financial year to the College.
College Staff
MAHARANA PRATAP POST GRADUATE
DEGREE COLLEGE AMB, DISTT. UNA(H.P.)
| | | |
| --- | --- | --- |
| Sr No | Name | Designation |
| 1 | Mrs. Alka Sharma | Associate Professor |
| 2 | Prof. Darshan Kumar | Associate Professor |
| 3 | Dr. S.D. Sharma | Associate Professor |
| 4 | Prof. Sophia Prabhakar | Associate Professor |
| 5 | Prof. Seema Sharma | Associate Professor |
| 6 | Prof. Rekha Sharma | Associate Professor |
| 7 | Prof.Suruchi Sharma | Associate Professor |
| 8 | Prof.Manoj Kahol | Associate Professor |
| 9 | Prof.Amit Sharma | Associate Professor |
| 10 | Dr. Satinder kumar | Associate Professor |
| 11 | Dr. Rekha Gupta | Associate Professor |
| 12 | Dr. Nitin K. Sharma | Associate Professor |
| 13 | Prof. Rajneesh Kumar | Associate Professor |
| 14 | Kumari Sujata | Associate Professor |
| 15 | Prof. Anita kumari | Associate Professor |
| 16 | Prof. Shyam Kalia | Associate Professor |
| 17 | Prof. Shilpa Kochhar | Associate Professor |
| 18 | Prof. Preeti | Associate Professor |
| 19 | Prof. Bindia Chandel | Associate Professor |
| 20 | Prof. Jag Mohan | Associate Professor |
| 21 | Prof. Lakhbir Singh | Associate Professor |
| 22 | Prof. Anil Verma | Associate Professor |
| 23 | Prof. Shruti | Associate Professor |
| 24 | Dr. Anju | Associate Professor |
| | | |
| --- | --- | --- |
| 25 | Mr.Vijainder Singh | Guest Faculty BBA |
| 26 | Miss Monika Jaswal | Guest Faculty BBA |
| 27 | Mr. Harjeet Singh | Guest Faculty BBA |
| 28 | Mr.Ashutosh Chaudhary | Guest Faculty BBA |
| 29 | Mrs.Renu Bala | Guest Faculty BBA |
| 30 | Miss. Neha | Guest Faculty BBA |
| 31 | Miss. Latika Kalia | Guest Faculty BBA |
| 32 | Mrs Sapna Sood | Clerk |
| 33 | Mrs.Poonam Sharma | Assistent Lib |
| 34 | Mr. Sandeep Kumar | Comp.Lab Att |
| 35 | Mr.Balbinder Pal | Class-IV |
| | | |
| --- | --- | --- |
| 36 | Sh. Pawan Kumar | Supdt.G-II |
| 37 | Sh.Ambrish Dogra | Sr. Asstt |
| 38 | Sh. Sanjay Kumar Sharma | Clerk |
| 39 | Sh.Neeraj Kumar | Clerk |
| 40 | Sh. Vijay Kumar | SLA |
| 41 | Sh.Rakesh Kumar | LA |
| 42 | Sh.Kuldeep Singh | LA |
| 43 | Sh. Rakesh Kumar | Sweeper |
| 44 | Sh.Gulwant Singh | Class-IV |
| 45 | Mrs. Soma Devi | Class-IV |